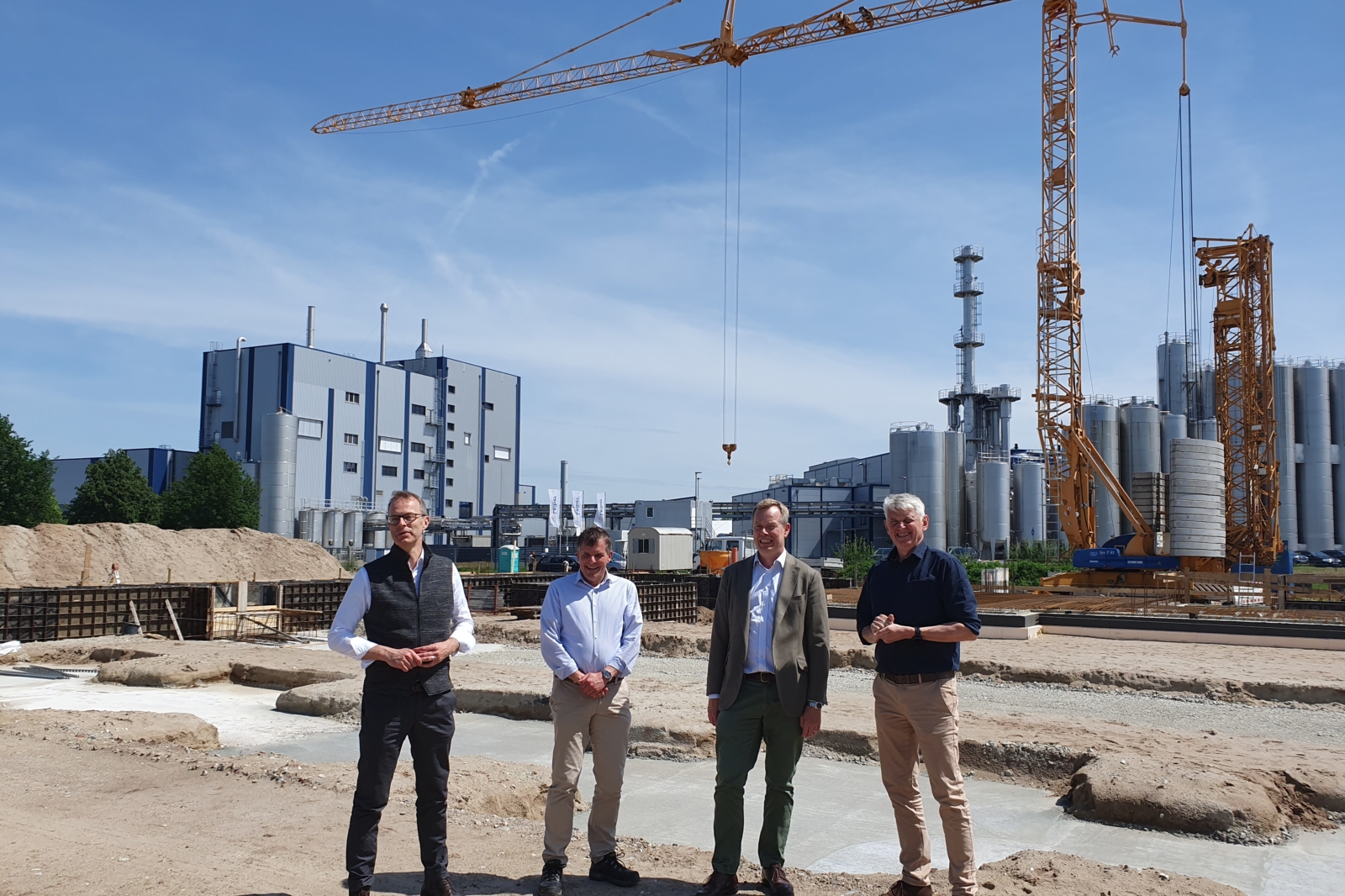 Leiber Campus – ground breaking for new company headquarter
Leiber's new company headquarter in Bramsche-Engter is taking shape. In the future, the brewers' yeast specialist will be bundling its Food, Life Science and Animal Nutrition Business Units, its in-house research and development facility and its administration under one roof at the new Leiber Campus – in the direct neighbourhood of its existing production facilities.
Leiber GmbH's Managing Directors Bernd Schmidt-Ankum and Gilbert Klausmeyer welcomed representatives from the town of Bramsche to the official ground breaking ceremony.
"We are delighted to be able to celebrate this milestone in Leiber's corporate history with you. The new company headquarter in Engter will act as a further boost to collaboration at Leiber and therefore to the future viability of our company," said Bernd Schmidt-Ankum. "At the same time, we would like to cordially invite our business partners to visit us at the new Leiber Campus. In the future, this is where experts and specialists will be able to experience the brewers' yeast specialities that Leiber produces."
The Leiber Campus will receive its guests with a light-flooded atrium. A test kitchen on the ground floor, where guests and business partners will be able to try out new recipes containing the valuable ingredients that Leiber obtains from brewers' yeast, will be a hub for dialogue. A company restaurant will provide catering for the employees and will open up to the grounds with a terrace and gardens. The upper two floors will also offer inviting areas for talks and meetings as well as offices. Particular value is attached to good light, fresh air and pleasant acoustics in the entire building. Natural, long-lasting materials will be used throughout.
"The new Leiber Campus will offer ideal conditions for new forms of work, which are aimed at reinforcing our innovativeness and making us even more attractive as an employer," said Leiber's Managing Director Gilbert Klausmeyer. "At the same time, our investment in new offices and laboratories is a clear commitment to our presence in Bramsche."
To ensure the building's energy-efficient operation, it has been planned according to the KfW "Energy-efficient Building 40" standard. In addition, the heat output from Leiber's neighbouring production facility will be used to heat the building. Leiber's modern drying plants and the extraction plant in Engter have been in operation since 2010 and 2017 respectively.
Among other ideas, hops are to be trained up the new building's clinker façade. Shrubs and wild flowers will be planted around the Campus. The terrace on the southern side of the building will lead to a pond nestled in the grounds. The property's wider areas will segue into a landscaped park, whose varied terrain will be carpeted with native trees and insect-friendly wild flowers. From Vördener Strasse, passers-by will be offered an occasional glimpse of the building through the greenery. Car parking spaces will be lined with trees and shaded.
Preparatory work for the Leiber Campus began in the spring of 2022. Around 100 employees who have so far been working spread out over three sites will be able to move into the new company headquarter in the summer of 2023. It will offer space for Leiber's employees over three storeys covering a total usable area of around 2,700 square metres.
About Leiber: 
Leiber refines brewers' yeast to produce innovative products for humans and animals. For our customers we carry out research in our own laboratories and develop tailor-made product solutions for healthy nutrition, biotechnology and agricultural applications. We reliably supply excellent products – and have been upcycling at world-market level since 1954.